Introduction:
VIU Campus Development is committed to providing vision and leadership as it grows and demonstrates the physical development and operation of a sustainable community.
This page pertains specifically to the sustainable development of new VIU facilities. For broader-scope sustainability information, please visit VIU's Office of Sustainability.
Sustainable Growth & Development:
Vancouver Island University is committed to providing leadership and excellence in sustainable development & operations through vision, strategy and demonstration of a multi-faceted, institution-wide, cohesive plan, titled the "Campus Master Plan". Along with many other roles, the plan itself functions as a mechanism to address synergistic and incremental growth as well as environmental, operational and fiscal sustainability, and therefore includes a "Sustainability Policy".  This policy identifies five key, inter-related components:
Institutional Sustainability
Social Sustainability
Fiscal Sustainability
Operational Sustainability
Environmental Sustainability
VIU Sustainable Buildings:
Designed for LEED® Gold accreditation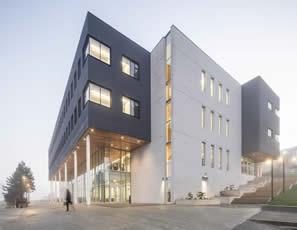 The new Health & Science Centre is designed to meet the requirements for LEED Gold accreditation. Some of the building's features include--
Active transportation amenities
Light pollution reduction
Water efficiency through landscaping and potable water reduction
Designed for lower than average energy consumption
Over 97% of construction waste was diverted from landfill
Daylight access for all occupied spaced in the building
For more information please follow the link to the full HSC Case Study.
LEED® Gold Certified:

Cowichan Campus (Building 700)
The Cowichan Campus is Vancouver Island University's first LEED® Gold Certified Building! The campus boasts many features including:
Permeable parking lot surfaces, bioswales and a wet meadow for stormwater management;
8 large cisterns for irrigation of landscape and green roof --no potable water is used for landscape irrigation;
Heating and cooling of the facility, provided via a geo-exchange system using in-floor hydronics;
Domestic hot water provided via solar water heating panels;
Ultra low flow plumbing fixtures;
90% of the building's lighting is provided by natural daylight;
90% of the building's roof is covered by a green roof;
many more...
For more information, please visit the Cowichan Campus' LEED Website: www.cc.viu.ca/leed
Pursuing LEED® Platinum:

Deep Bay Marine Field Station (Building 480)
The Deep Bay Marine Field Station was designed to meet LEED® Platinum, and is in pursuit of aquiring certification.
For more information, please visit the Deep Bay Marine Field Station's Sustainability Website: viu.ca/deepbay/resources/sustainability.asp
LEED® Certified:
Faculty of Management Centre (Building 250)
Vancouver Island University's Faculty of Management Centre (Bldg.250)  is good for business and the environment. Information on VIU's first LEED facility can be found below.
LEEDing edge A brochure outlining some of the key LEED features the contribute to the Faculty of Management's superior teaching and learning environment.
LEEDing edge wall display located on the first floor of the Faculty of Management Building #250 Click here to Download images or select the individual pages below.

 

Spotlight on VIU's older Green Buildings:
Last updated 18-Jun-2013