*Aerial view of the project site. Conceptual rendering coming soon.
Background
VIU's Welcome Centre, cafeteria, library, Campus Store and the Malaspina Theatre all surround the Nanaimo campus' main courtyard, called the quad. The path between the quad and the main entrance and visitor parking area is heavily used. The existing ramp at this intersection is steep, narrow and lacks handrails on both sides. It is also concealed behind a thick concrete wall with tall bushes in front of it and does not meet current codes and standards.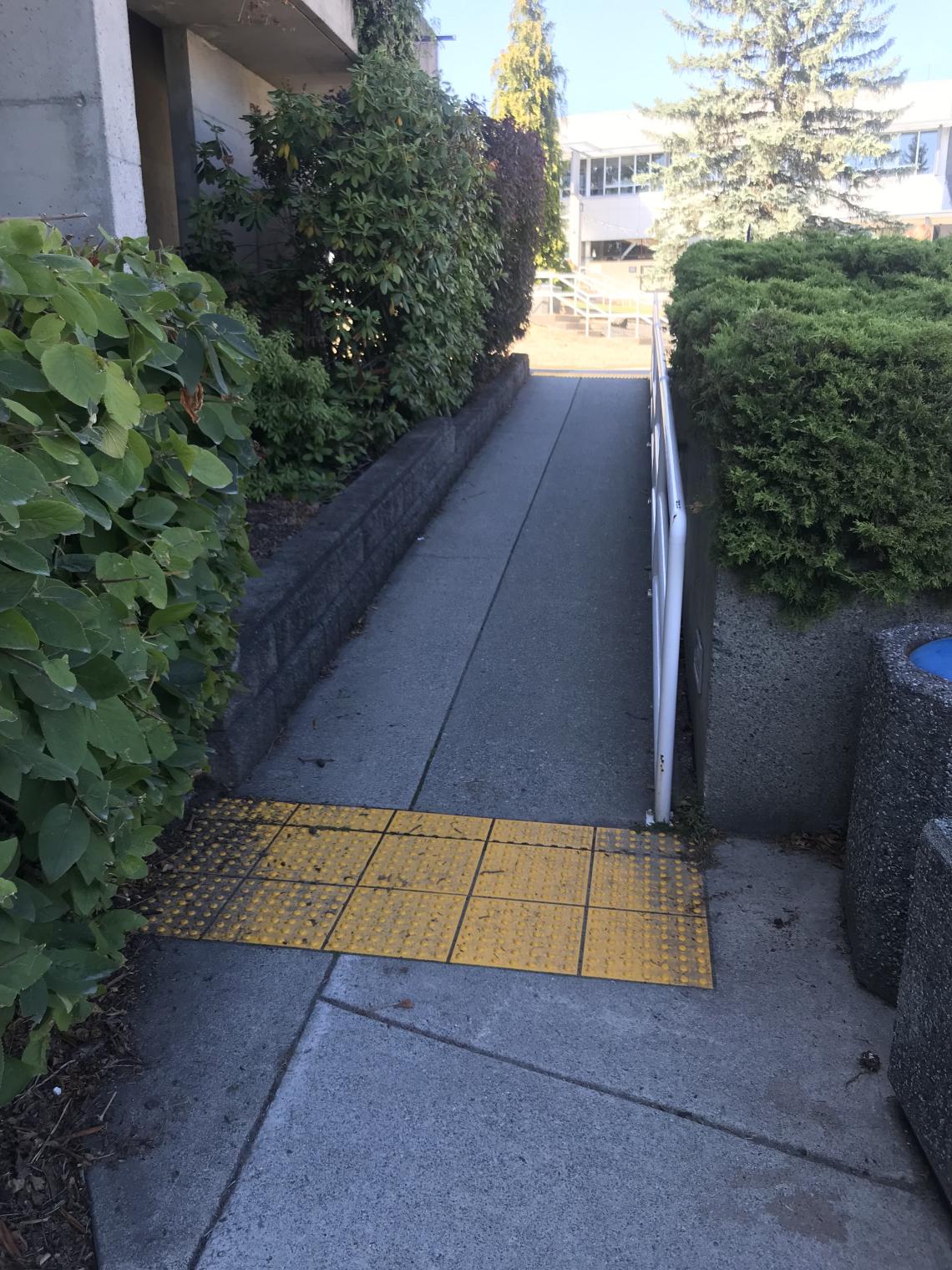 The existing ramp
Project Overview
The primary goals of this project are:
To replace the existing ramp with a wide, gradually-sloped ramp with handrails on both sides. The new ramp will be wide enough to accommodate the passage of two wheeled mobility devices, and groups of people travelling together. To ensure accessibility for individuals with low/no vision, various adaptations will be included, such as tactile attention indicators, braille on handrails and high-contrast signage.
To provide a universally accessible pick-up / drop-off area with seating space between the Welcome Centre and Building 310; and
To improve the accessible route between the Welcome Centre and Building 210 (Dr. Ralph Nilson Centre for Health & Science) and provide improved, safer access to parking.
Benefits
Enhances accessibility – not only for those with permanent physical or visual challenges/impairments but also for those with temporary impairments who need crutches, for example.
Improves functionality – for all!  This work will benefit everyone, from those waiting for pick-up, or being dropped off, to those pushing catering or technology carts, strollers and more.
Beautifies VIU's "front doorstep" with enhanced landscape and outdoor seating.
Replaces old/obsolete infrastructure.
Impacts
The pick-up/drop-off area will be partly blocked off during construction. An alternate pick-up/drop-off zone is at entrance 5D next to building 210.

Some accessible routes will be impacted. Signage will be in place to identify alternate routes.
Work will take place in sections to allow for access throughout construction.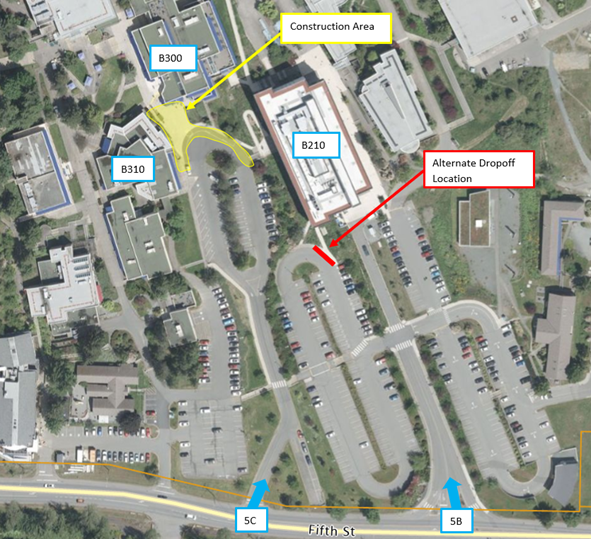 Map of Alternate Drop-off Location
Schedule
| | |
| --- | --- |
| Milestone | Completion Date |
| Planning and design | August 2023 |
| Construction | November 2023 |
FAQ's
Q: Why are we doing this now?
A: This project is a high priority for physical accessibility improvements, as it is an integral juncture point on campus that currently has many barriers.  It is funded completely through external capital grants. Both grant deadlines are mid-academic year.
Q: Why didn't we do this in the summer, when campus was quiet?
A: The project was planned for construction in Summer 2023. There were delays due to industry constraints.
Q: How is this project being funded?
A: This project is 100 per cent funded through two capital grants from government: one from the Provincial Ministry of Post-Secondary Education & Future Skills (PSFS) and one from the Federal Ministry Employment & Social Development Canada (ESDC).
Point of interest: More than 90% of funding for all capital projects at VIU comes from external (to VIU) capital grants, not from the institution's operating budget.